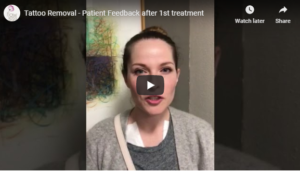 Tattoo Removal – Patient Feedback after 1st treatment
This patient has a tattoo with ALL sorts of colors. Prior to her treatment with the Pico Laser, she had 1 treatment with our Q-switch laser. The Pico Laser is the fastest tattoo removal on the market and Flawless is the first and only Med Spa in NM to own one!
*Individual results are not guaranteed and may vary from person to person.