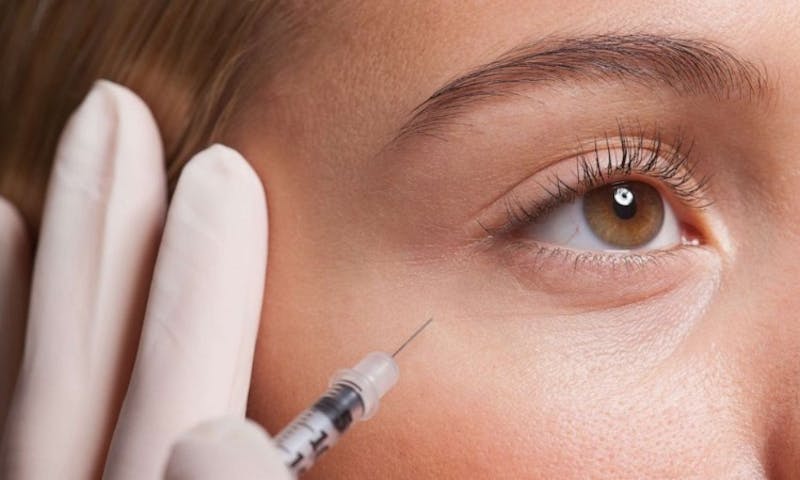 Over time, our facial expressions can lead to lines and wrinkles. Botox® can smooth out these wrinkles by softening facial expressions. Botox is injected into the treatment area and overtime those muscles relax. When the muscle is in a relaxed state, it does not contract and as a result can soften and prevent future lines and wrinkles. Treatment with Botox® leaves you looking younger and more refreshed. At Flawless Med Spa, you can save money on Botox® with our membership program. Ask about them during your consultation.
How Does Botox® Work?
Many of our deepest and most stubborn lines and wrinkles come from our facial expressions, with muscles pulling the skin into smiles, frowns, or raised eyebrows. Over time, this pulling leads to the development of wrinkles which can result in unwanted permanent expression lines. Botox® is an excellent way to make you look like you went on a 3 week vacation. You will look relaxed, refreshed and rejuvenated.
Botox® contains botulinum toxin, which was approved for medical use in 1989, and has been used in aesthetics since 2002. Botox® interrupts communication between muscles and nerves. This reduces lines and wrinkles by immobilizing the nerves temporarily, so they stop telling muscles to contract. As muscles stop contracting, the lines and wrinkles they hold in place can soften and smooth out.
The results of Botox® last about three months, and after this time, communication between your nerves and muscles will return to normal.
What are the Benefits of Botox®?
Some of the benefits of using Botox® to address facial lines and wrinkles are as follows.
Fast and Convenient
Botox® treatments take as little as twenty to thirty minutes, and you can return to work or activities right after, making this an excellent "lunchtime procedure."
Safe and Reliable
After twenty years of FDA approval for cosmetic use, Botox® continues to prove itself safe and produces excellent results in over a million patients every year.
Non-Surgical
Many options for treating lines and wrinkles involve surgery. Botox® is an excellent non-surgical option that can be done at the Med Spa under the care of a certified nurse injector.
How Many Units of Botox® Do I Need for My Forehead?
According to the manufacturer of Botox®, most people should need about twenty to thirty units to treat the forehead, with injections in multiple different locations across the treatment area for the best results.
What is the Difference Between Botox® and Juvederm®?
Because neurotoxins and dermal fillers can both reduce lines and wrinkles, some people have questions about the difference between neurotoxins like Botox® and dermal fillers like Juvederm®.
Juvederm® is made up of a form of hyaluronic acid that is naturally found in our bodies. Juvederm® reduces lines and wrinkles by increasing volume and fullness in the area. This lifts the wrinkles and makes them look smoother and less noticeable. It is most often used to increase fullness in the lips, cheeks, and chin. Botox® works to soften the muscle contractions that create and hold the lines and wrinkles in place.
Together Botox and Juvederm are a fantastic pair and can leave a patient feeling more youthful and rejuvenated. A consultation with Flawless Med Spa can determine which one will help you achieve your treatment goals.
Am I a Good Candidate for Botox®?
You are a good candidate for Botox® if you have wrinkles around your eyes, forehead, or between the eyebrows. It is not uncommon to see people in their 20s using Botox as a preventive measure against wrinkles. The stronger the muscle, the stronger the facial line it creates.
Take The Next Step
Patient safety and comfort are our top priorities. Call Flawless Med Spa at (505) 888-1185 to schedule a complimentary consultation. We are pleased to serve patients throughout the Albuquerque, Rio Rancho, and Santa Fe areas.