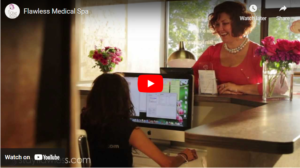 Flawless Turns 8!!!
Flawless opened it's doors in the Spring of 2011. We started with one laser and this idea of making women and men feel and look flawless. Like any small business we've had some ups and downs, but we have persevered in this growing industry. We are now one of the top medical spas in all of New Mexico.
Flawless specializes in Cosmetic Injections, Kybella, Laser Hair Removal, Laser Tattoo Removal, PicoSure Laser facials for lightening Melasma and dark spots. We also have incredible chemical peels, a range of skincare products for any skin type. We can't stop the aging process but we can most definitely slow it down with a mix of treatments and skincare that our awesome spa provides. We have nurses that have received advanced training in lasers and cosmetic injections and their primary goal is to make you feel and look good. You are already Flawless, we just want to help you stay that way!
In recognition of Flawless celebrating its 8th year Anniversary we want to also celebrate our fabulous clients! In doing so, we will have a Summer Soiree. Please come and help us commemorate this occasion Thursday June 21st from 3pm-7pm. Enjoy some complimentary champagne and desserts, and a 10% discount.
That's right, 10% off…of EVERYTHING!!!
*If you can't make the party, that's okay, just give us a call the week of June 18th-23rd and we will honor the 10% discount. Before or after that week we will not be honoring any other promotions or specials for the month of June.
Take The Next Step
Patient safety and comfort are our top priorities. Call Flawless Med Spa at (505) 888-1185 to schedule a complimentary consultation. We are pleased to serve patients throughout the Albuquerque, Rio Rancho, and Santa Fe areas.