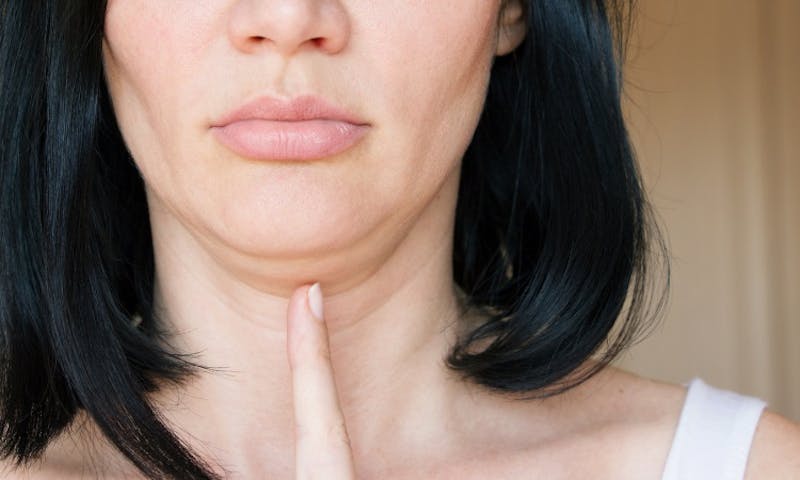 Having a double chin can be so discouraging. You see it everytime you look into a mirror. You see it in pictures of yourself. You may even find yourself thinking about how you should hold your head to minimize that double chin while you should be enjoying the company of family and friends. Sometimes double chins are caused by a poor diet and lack of exercise, but they can also form due to genetics, making them near impossible to reduce with proper diet and exercise. If this describes you, you are not alone. Nearly 70% of men and women in the United States struggle with a double chin. Kybella® can help!
What Is Kybella®?
Kybella® is an FDA approved injectable double chin reduction treatment. This injection dissolves the fat that accumulates under the chin. It is a man-made formulation of deoxycholic acid which is a compound that is found naturally in our bodies.
This compound aids in the breakdown and absorption of fat. When Kybella® is injected, it dissolves fat cells which are metabolized by the body. These cells are gone and can no longer accumulate fat.
What Is a Kybella® Treatment Like?
This treatment is minimally-invasive and there is little downtime involved. Patients can return to their normal daily routines immediately after the injections are completed.
A Kybella® treatment takes roughly 30 minutes to perform. The first step is to cleanse the area in preparation for the treatment. The Kybella® is then carefully injected and patients may experience a slight warming sensation during this process.
Kybella® begins working right away, but results are usually seen in 3 to 4 weeks after your session. Patients will need more than one treatment to achieve their goal. Up to six treatments can be administered at 6 to 8 week intervals, but your expert provider will create an individualized plan for you based on your specific needs and goals.
It is important to keep in mind that some swelling and redness will occur for 4 or 5 days after each treatment. This is normal and is evidence that the treatment is working. While patients are not required to stay home/indoors during this time, you may not want to schedule important meetings or events within the first few days after treatment.
Take The Next Step
Patient safety and comfort are our top priorities. Call Flawless Med Spa at (505) 888-1185 to schedule a complimentary consultation. We are pleased to serve patients throughout the Albuquerque, Rio Rancho, and Santa Fe areas.