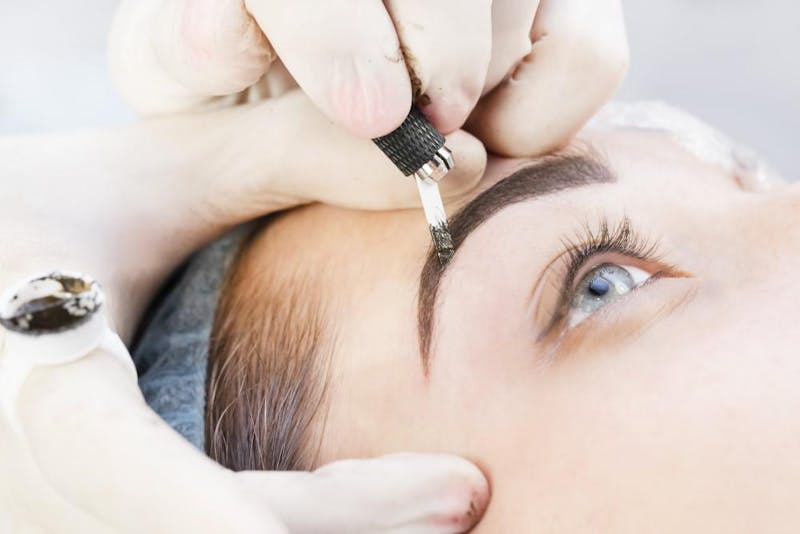 If you're not blessed with the full, lush eyebrows that are currently in style, or if your brows have lost definition over the years or as a result of aging or chemotherapy, you may want to consider a technique known as microblading. Ditto if you're weary of applying eyeliner or lipstick multiple times a day.
Microblading is a revolutionary, semi-permanent makeup option that frees you from the daily drudgery of applying your makeup daily. It will also free you from the worry of accidentally wiping away your makeup or losing it due to perspiration or putting in an extra-long day.
Our highly experienced and trained team of nurses at Flawless Skin Spa are well versed in the safest, most up-to-date microblading practices. We're happy to explain what it's all about, how much time you'll save post-treatment and, most importantly, how flawless you'll look after your procedure – that is our name, after all!
What is Microblading?
Microblading is a tattooing method that creates tiny marks on your skin that mimic fine eyebrow hairs, defines your lips with color, and lines your eyes. These tiny tattoos blend in with your real brow hairs and fill in your brow "bald spots" beautifully. In liner and lip procedures, microblading injects pigment so that you won't have to apply any makeup for years. Imagine that!
Microblading offers loads of advantages:
It's a semi-permanent solution for individuals who have naturally thin or uneven brows and for those who have lost brow definition over time or due to hair loss from aging, chemotherapy, singeing from fire, etc.
It's a quick, safe, in-office procedure
The healing process is quick, about a month
Treatment is customized to give you exactly the look you have been creating with a temporary lip liner, eyeliner, and eyebrow pencils. For example, we can create a template that defines the brow shape and fullness you desire, so you can know what the results will be before we start
It's completely sterile
It's painless
We use something called the SofTapⓇ system exclusively. It allows our aestheticians to use new tools on each patient they work with, ensuring that every procedure is sterile. That means your chances of infection are minimized. SofTap tools also give our aestheticians the highest level of control over the microblading process possible. Since they're not using an unwieldy tattoo gun, your results will be precise and exactly what you asked for.
Proper Microblading Preparation is Everything
Just as with aftercare, what you do before microblading influences how well your treatment will go. We ask that you don't get any eyebrow treatments like waxing or dying in the two days before, either. If you're getting your lips done, don't bleach the hair above your upper lip either before or after microblading, and if you're getting your eye area treated, have a family member or friend drive you home from our spa.
What is a Microblading Treatment Like?
We know you'll be pleasantly surprised at how comfortable and quick the procedure is.
The first step is numbing your brow, eyelid, or lip area with a topical solution to ensure that you have minimal to no pain during the procedure. After creating a template in the area you are having microbladed, our aesthetician will begin the microblading tattooing work. Typically a microblading session lasts 1-3 hours, depending on what you're having done.
What Happens After a Microblading Treatment?
You may experience slight swelling or redness, and that's to be expected. The most important time after your procedure is the first week. During this period:
Don't go out in the sun
Avoid the sauna
Don't swim
Avoid wearing contact lenses for three days after the procedure
Don't wet your face or use facial cleansers
Apply the antibiotic cream we supply you with daily to encourage healing – the scabbing and flaking process you experience is part of the healing process
It's also important to remember that everyone's skin takes to think differently and heals on its own schedule. We offer all of our microblading patients a free touch-up at the 2-week post-treatment mark because, after your healing is complete, a few areas may not have picked up the ink as well as others. If this happens, we guarantee you a final fill-in.
We're Here to Answer Your Questions About Microblading
Check out our website's gallery of microblading photos, and prepare to be amazed! We'll show you how microblading can help you brighten your appearance and free you from the "Groundhog Day" sameness of putting your makeup on…every…single…day.
Take The Next Step
Patient safety and comfort are our top priorities. Call Flawless Med Spa at (505) 888-1185 to schedule a complimentary consultation. We are pleased to serve patients throughout the Albuquerque, Rio Rancho, and Santa Fe areas.