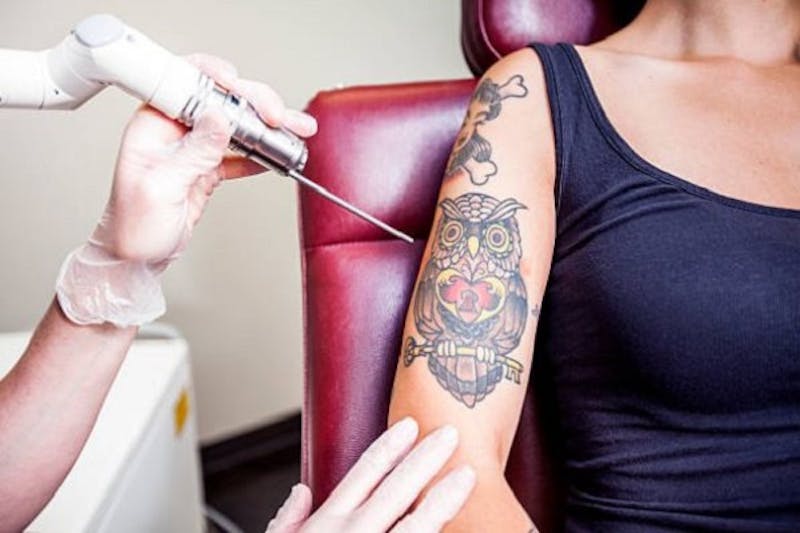 There can be any number of reasons why one may be rethinking a tattoo. Sometimes landing an important job means getting rid of visible tattoos. In other cases, it may be someone's name that needs to be removed. Perhaps the artist didn't deliver the quality work that was expected. Regardless of the reason, at some point, it may become necessary to remove a tattoo. One question that is frequently asked is, "Does laser tattoo removal work on all the colors in my tattoo?"
How Does Laser Tattoo Removal Work?
During a laser tattoo removal treatment, the laser is used to disrupt the ink pigment that is embedded in the skin. Lasers use highly concentrated pulses of energy that are absorbed by the pigment in the tattoo. The pigments are then broken down into tiny particles. This ink is then safely absorbed by the body and flushed away by the body's lymphatic system. These pigments then fade and disappear over time.
When it comes to removing color, different wavelengths of light are absorbed by different tattoo ink colors. The right wavelength will need to be directed at the targeted ink color and will then be able to break it down.
Typically, black and gray tattoos are the easiest to remove. Red inks are the second easiest to remove, and the darker blues, greens, and purples are more difficult to remove. The key to color removal is to be able to direct the correct wavelength at the specific color you wish to remove.
At Flawless Med Spa, we can remove all the colors of tattoo ink because our Pico lasers are able to operate at multiple wavelengths to remove darker inks, brighter inks, and the most difficult to remove blue-greens.
How Many Treatments Will I Need To Remove Color Tattoos?
Our Pico Laser will only need a fraction of a second to break down the color being targeted. Depending on the size of the tattoo, the typical treatment only lasts 10-20 minutes. Most professionally applied tattoos will take anywhere from 5 to 12 treatments to remove completely. The sessions are scheduled 4 to 6 weeks apart to give the body healing time between sessions.
Your provider will assess the depth, colors, and other important factors when determining how much treatment is safe for each session and how many sessions will be needed.
Take The Next Step
Patient safety and comfort are our top priorities. Call Flawless Med Spa at (505) 888-1185 to schedule a complimentary consultation. We are pleased to serve patients throughout the Albuquerque, Rio Rancho, and Santa Fe areas.