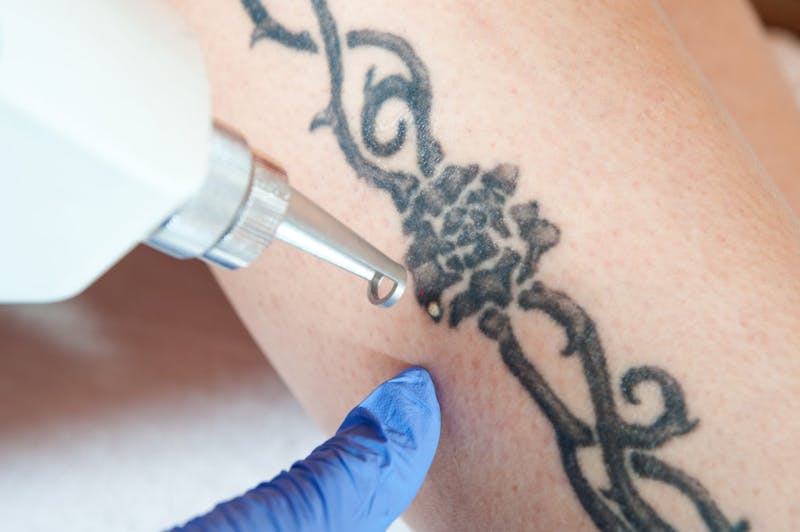 There are many reasons for a person to want or need to remove a tattoo. It could be necessary for employment purposes, for aesthetic purposes, for relational reasons, or even for physical or mental health reasons. There is no judgment and no shame for seeking to have tattoos removed. It's a fairly common event. If you are ready to take the plunge and get one or more tattoos removed, you may be curious about the cost. Read on for more information on laser tattoo removal.
How Does Laser Tattoo Removal Work?
In a laser tattoo removal treatment, the laser is used to disrupt the ink pigment that is embedded in the skin. These lasers are highly concentrated pulses of energy that are absorbed by the pigment in the tattoo. The pigments are then broken down into tiny particles. This ink is then safely absorbed by the body and flushed away by the body's own natural processes. The pigments then fade and disappear over time. Due to the variety of inks that are used in tattoos, the number of treatments will vary by patient and tattoo. Many people see results in as little as two treatments, but most patients need anywhere from 4 to 8 treatments to get the best results.
How Much Does Laser Tattoo Removal Cost?
As with any type of procedure, the cost of laser tattoo removal is based on several general factors. These factors include:
The

size

of the tattoo. (Larger tattoos take longer to remove than smaller ones.)

The

color

of the ink. (Some ink colors are more difficult to remove.)

The

type/quality

of ink used.
The Expertise of the Professional Providing the Service & Technology.
The nurses at Flawless Med Spa have been removing tattoos for over 8 years and are trained in both the Q-Switch & Pico Lasers for Tattoo Removal.
The Geographical Locations of your Provider.
Because the cost of living is different in various regions of the country, laser tattoo removal costs will also vary depending on the area in which you live.
With these factors in mind, the average cost of laser tattoo removal ranges from $200 to $500 per treatment session. Because most tattoos require multiple sessions to remove, the total cost for all sessions can range from $1000 to $10,000. Fortunately, many laser tattoo removal providers offer financing and/or payment plans for their clients to make laser tattoo removal more easily accessible. The best way to determine your specific costs for this process is to schedule an in-person consultation with a member of our staff.
Take The Next Step
Patient safety and comfort are our top priorities. Call Flawless Med Spa at (505) 888-1185 to schedule a complimentary consultation. We are pleased to serve patients throughout the Albuquerque, Rio Rancho, and Santa Fe areas.