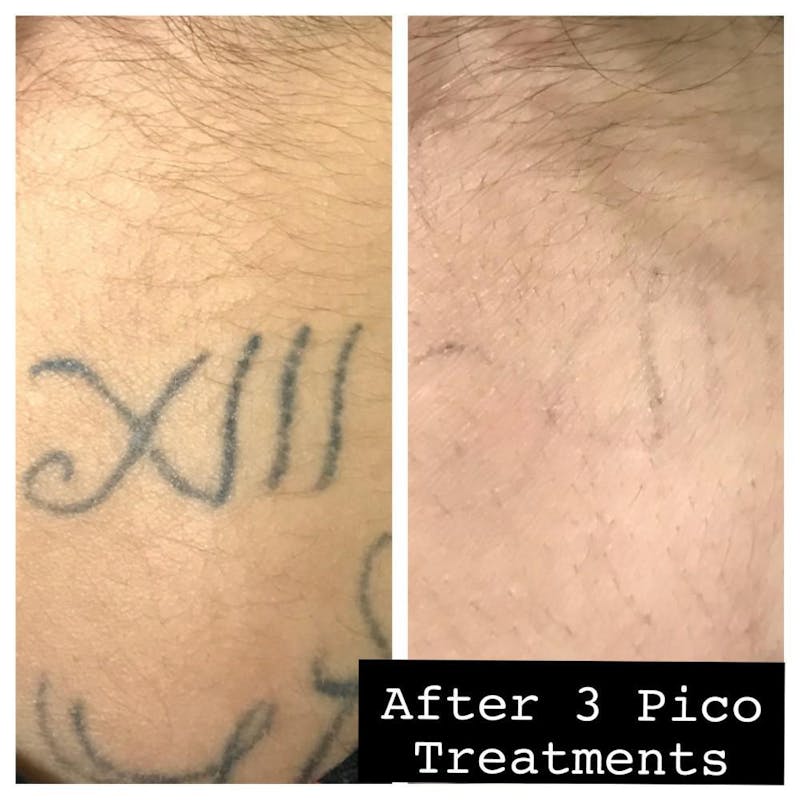 Flawless Med Spa in Albuquerque, New Mexico, specializes in laser tattoo removal, a safe and effective method which breaks down sections of pigment in your skin so it can be filtered out by your body's lymphatic system. At Flawless, we offer the Revlite Q-Switch & Pico Lasers – an ideal combination for the fastest tattoo removal on the planet. If you want to learn more, call us for a free consultation – 505-888-1185
How does laser tattoo removal work?
Each color, or segment of a tattoo responds to laser removal by absorbing waves of light which serve to break down the ink, little by little. This process is known as the light absorption spectra and certain colors react differently depending on their particular nature. For instance, dark colors such as black or blue are easier to remove because their color composure falls into the spectra. Brighter colors like pastels, yellows and reds are more difficult to treat because their structure falls outside of the light absorption spectra. Every color responds differently to a matched wavelength and the process is just as unique as when you first received your ink. Flawless is the only med spa in New Mexico to offer 6 different wavelengths.
Are there colors that can not be treated with a laser?
Though we do our best to remove the majority of tattoos, there are always a few which slip out of our reach. Lasers are incredible but there are few colors it cannot reach. Due to the color spectra certain color schemes are unable to be removed. Yellow, beige, white and flesh colored ink are there to stay as technology has yet to figure out a way to tackle a tattoo that is the same color of your skin.
Flawless has invested in multiple lasers that can treat 6 different wavelengths.
While it is indeed true certain colors will take longer to remove than others, our team of nurses has found a way around that. Our nurses have access to innovative lasers and this combo helps us rid you of your tattoo . Flawless Med Spa features the PicoSure laser, technology designed to treat and remove stubborn tattoos more thoroughly than ever before. We can successfully remove a spectrum of bright colors with the latest technology. The impressive pulse speed breaks down tattoo pigment utilizing sound waves which allow white blood cells to evacuate the pigment faster than its predecessor.
Take The Next Step
Patient safety and comfort are our top priorities. Call Flawless Med Spa at (505) 888-1185 to schedule a complimentary consultation. We are pleased to serve patients throughout the Albuquerque, Rio Rancho, and Santa Fe areas.