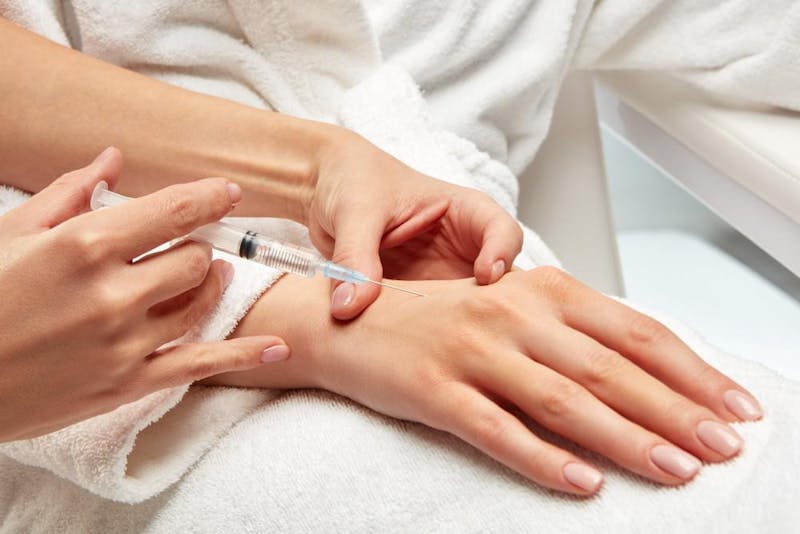 People often say that the best way to guess a person's age is to look at their hands rather than their face. Skincare products like moisturizers, exfoliators, and hydrators — not to mention makeup and procedures like microblading — can change the story on your face.
But on your hands, it's much more difficult.
That's why at Flawless Med Spa, our expert aestheticians are trained in the most effective hand rejuvenation techniques that erase sunspots, eliminate spidery veins, replace plumpness, and restore smoothness.
What is hand rejuvenation?
It might be better to start with, "What is skin rejuvenation?" For the most part, your skin is the most important factor in the appearance of your hands.
It's simple, really: Hand rejuvenation refers to a whole suite of aesthetic techniques that improve the appearance and feel of your hands. When you come in for a hand rejuvenation procedure, you'll leave with softer, plumper, brighter, and smoother hands.
Different types of hand rejuvenation
Just like several types of rejuvenation for the face exist, there are several for the hands as well. At Flawless Med Spa, we offer a whole suite of rejuvenation techniques that will have your hands looking radiant and youthful again in no time. Our techniques include:
We use laser treatments to remedy a wide range of skin concerns, including discoloration, blotchiness, sun damage, spidery or thread-like veins, wrinkles, and sagging.
Chemical peels remove the damaged outer layers of your skin, resulting in a smooth, bright, youthful complexion.
Picosure is an innovative laser system that eliminates age spots and sunspots by breaking up the pigment in your skin. The result is a beautifully smooth appearance and texture.
That's right — you can get botox in your hands. This famous wrinkle relaxer can restore a youthful plumpness to your hands in just 30 minutes, and the results last for months.
If Botox isn't for you, we also offer other fillers to contour your hands. Juvéderm® and Restylane® subtly fill in wrinkles and add volume to bony hands and sagging skin.
Should you consider hand rejuvenation?
In general, you're a good candidate for hand rejuvenation simply if you're unhappy with the appearance of your hands. But to get more specific, you should consider hand rejuvenation if any of the following conditions apply to you:
Your hands look very veiny
Your hands are wrinkled
The skin on your hands looks and feels thin
Your hands have age spots or sunspots
Your hands feel very dry
So don't let your hands give away your age: Call Flawless Med Spa today or request an appointment online to set up a consultation with one of our aestheticians.
Take The Next Step
Patient safety and comfort are our top priorities. Call Flawless Med Spa at (505) 888-1185 to schedule a complimentary consultation. We are pleased to serve patients throughout the Albuquerque, Rio Rancho, and Santa Fe areas.