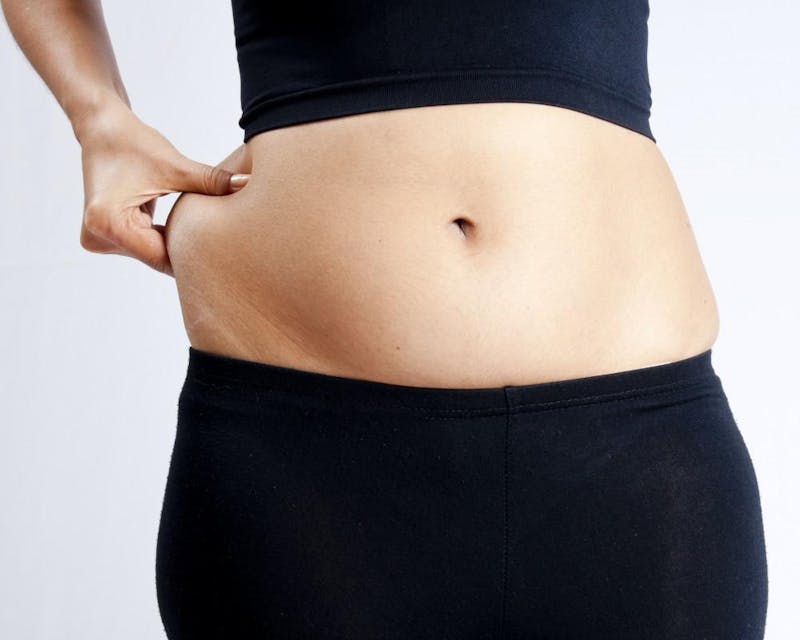 Coolsculpting® End Of Year SpecialBuy a package of 6 – get 2 for free & A $500 Allergan Coupon!
Remember that old expression 'I don't even know why I'm eating this … I might as well just tape it to my thighs?' While tongue-in-cheek, there's a whole lotta truth to that! Aging and metabolism changes can be rough on both men's and women's bodies. Areas that used to be slim and toned start to wiggle and wobble … and you start to wonder where those annoying extra fat bulges came from. We have created an entire vocabulary to show our disdain for these pesky issues: love handles, muffin tops, banana rolls, chicken wings, turkey waddles, bra bulge (for women). It's as if by naming them we take away their power and feel we can conquer them once and for all.
Fitness is great, but sometimes it's not enough.
I've always found it frustrating that we set women up to feel bad about normal post-childbirth or aging changes. We all know that at times, despite eating well and maintaining a good fitness regimen, there are just stubborn fat pockets that won't go away. Our bodies were made to create reserves of energy to help us get through the winter but with modern day conveniences, we do not need to relay on those reserves the way we did. 100 years ago.
Enter CoolSculpting®…a revolution in fat removal!
At Flawless Med Spa, we can help you get sleek, trim and sculpted with CoolSculpting®— the world's leading non-invasive fat removal treatment. Just like everything I recommend to our patients, I've done it myself, so I know it's safe and really works. The FDA-cleared medical procedure freezes away unwanted fat for good. Yes, you read that right – the procedure is permanent! Unlike a diet where fat cells shrink and get smaller only to puff themselves up after some holiday fun, CoolSculpting® destroys fat cells forever. Gone. For good. Buh-bye.
So how does CoolSculpting® work?
Essentially it delivers precise & controlled cooling to fat cells underneath your skin. These fat cells are crystallized (frozen) which causes them to die. Over time, your body naturally processes the fat and eliminates those dead cells. After 3 Months, you are transformed.
What about Liposuction? How does liposuction compare to CoolSculpting®?
In the not-so-distant past, the only good option women and men had to targeted fat was liposuction. Liposuction works, no doubt about that, however, it is invasive, has considerable downtime & with any surgery, there are potential risks.That's where CoolSculpting® comes in – it requires no surgery and is completely non-invasive. It's safe and easy, with little to no downtime. You can even do it over your lunch hour. Once we start a treatment, you can read, take a nap, watch videos, catch up on email or just sit and imagine your fat cells being shown the door.
What Makes Flawless Med Spa, Albuquerque, CoolSculpting® Unique?
We customize our approach for you. When you come in, our board-certified experts will create an individualized treatment plan based on your goals. The consultation takes about 30-45 minutes. Once we have a plan, we will schedule you for your treatment. On average, each treatment will take 45-50 minutes. It is not uncommon to have multiple treatments in one day. A single treatment eliminates about 20% of the fat cells in a region, and you'll start to see changes as quickly as 4 weeks after your treatment and will have the final results from your first treatment after 3 months. You go on with your daily life and your fat cells continue to disappear – how cool is that?
Take The Next Step
Patient safety and comfort are our top priorities. Call Flawless Med Spa at (505) 888-1185 to schedule a complimentary consultation. We are pleased to serve patients throughout the Albuquerque, Rio Rancho, and Santa Fe areas.