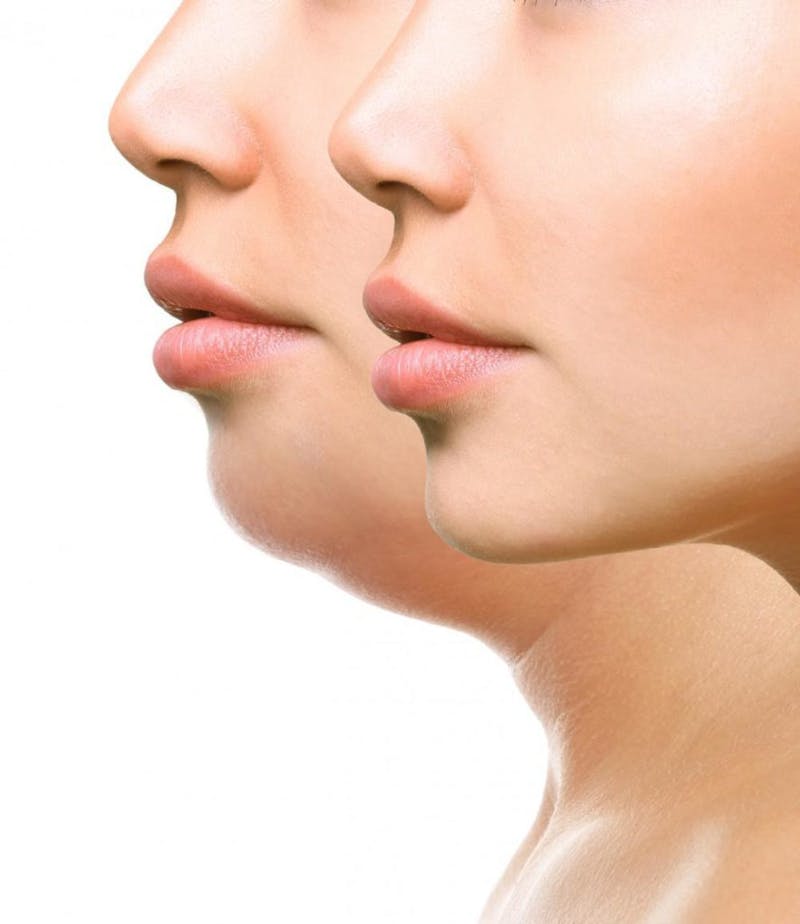 A double chin, brought on by aging, genetics, or weight gain doesn't have many positives. Negatives? We can think of a few:
Makes you look heavier
Makes you look older
Weakens your profile
Changes your facial shape
You've thought about getting liposuction to remove the fat underneath your chin, aka submental fat. The problem is you don't like the idea of undergoing surgery. Don't worry, you're not alone.
In 2018 almost 64,000 women and men in the U.S. nixed liposuction and opted for Kybella®. It's a nonsurgical double-chin removal injectable that's now available at Flawless Med Spa.
Fat melts away
Kybella® is FDA approved. It's made from a synthetic form of deoxycholic acid. Which is a substance your own body produces to help you digest the fat in your diet.
Kybella® injects into the excess fat in your submental area. The deoxycholic acid destroys the fat cells. And melts the fat away for good. After the treatment, your body processes the dead fat cells, eventually excreting them.
The changes are gradual. You may not notice a difference until after your second treatment. We'll take before and after photos so you can track your progress from visit to visit.
A few easy treatments
Most men and women need at least two, up to five treatments, of Kybella® to get their desired look. You'll find out how many treatments you need during your consultation.
Each treatment is about eight weeks apart. This gives your body a chance to eliminate the destroyed fat.
The treatments themselves only take about 15 to 20 minutes, from beginning to end. After preparing and numbing your submental area, a template is used to mark the injection sites. Then, Kybella® injects into about 20 to 25 areas of excess fat, based on where you need it most.
You can return to your daily life and work directly after Kybella®. You may have some swelling and tenderness. That can last up to seven days. You should refrain from strenuous activities until the swelling subsides.
While some people feel embarrassed by the swelling under the chin after Kybella®, others don't. You might want to avoid major events until after your swelling subsides. We can also book your treatment to coincide with the weekend.
Gone for good
The fat cells that Kybella® destroys can't regenerate. The only time your body produces new fat cells is when you're a baby and when you go through puberty. As long as you maintain a healthy and stable weight, your new profile and facial shape are permanent. And your double chin is a thing of the past.
With that said, weight gain can cause you to see more submental fat. That doesn't mean the destroyed fat cells have re-grown. It means the fat cells that weren't treated are swollen due to the weight gain. Keep yourself healthy after surgery, so you avoid this problem.
Tighten your chin, too
Kybella® injections start a process of collagen remodeling in your skin. This causes your skin to rebuild itself with essential proteins. As long as your skin is elastic and doesn't sag before your treatment, your jawline and chin will lose fat and tighten. You'll have a tighter and younger looking chin in no time.
Kybella® injections are easy and efficient. You can even get treatment while you're receiving other treatments. Such as Botox® for wrinkles or dermal fillers to replace lost volume and contour your face and lips.
Take The Next Step
Patient safety and comfort are our top priorities. Call Flawless Med Spa at (505) 888-1185 to schedule a complimentary consultation. We are pleased to serve patients throughout the Albuquerque, Rio Rancho, and Santa Fe areas.